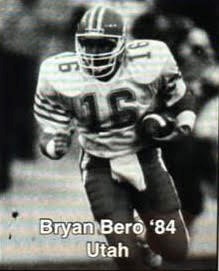 Bryan Bero
Bryan Bero was inducted into the Bishop Montgomery High (BMHS) School Hall of Fame in 2012. A 3-year varsity starter as Quarterback. Bero holds the school records in several categories, including most passing yards in career (4,975), most passing attempts in career (630), most completions in career (330) and 2nd most passing yards in a season (2,533).
Named 1st team All-Camino Real QB in 1982 and 1983
Named Camino Real Offensive Player of the Year 1983
Named Camino Real League MVP 1983
Named Daily Breeze Player of the Year 1983
Named 1st team LA Times QB 1983
Named All CIF 1983
Named Faith Family and Football All American 1983
South Bay Lions Game All-Star 1983
Bishop Montgomery High School Athlete of the Year 1984
The Bryan Bero Award is given annually to the top skill player (QB, RB,WR, TE) at BMHS.
Bero was a 4year letterman and 3 year starter at fullback for the University of Utah .
Utah Team Captain and Walt Deland Award winner 1988
All-WAC selection 1988
Holds University of Utah record for most receptions in a season by a running back (52)
Bero also played for the Chicago Bears 1989-1990 and started at fullback for the Bears in NFL Hall of Fame Game 1990.