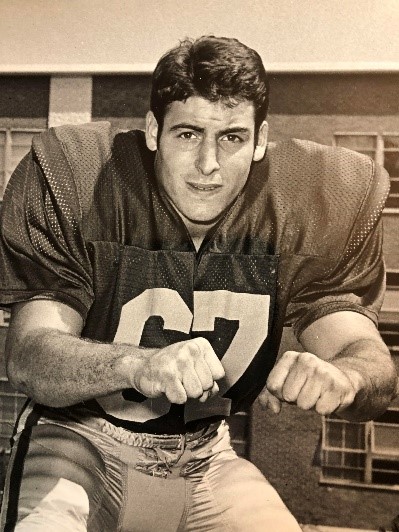 John Papadakis
John Papadakis was named Athlete of the Year in 1968 at Rolling Hills High School. As a high school Football player, he gained All-State and All-American status. He played baseball too, and as a track athlete, he advanced to the State Finals… John was recruited by over 50 major universities across the country. He chose USC and went on to star as the middle linebacker leading his team in tackles. He was chosen to the ALL-Far West team in 1971, & ALL-PAC 8 team in 1970. He won the 1971 USC team awards for MOST INSPIRATIONAL PLAYER, and for THE HIGHEST-GRADE POINT AVERAGE. He also won the award for the TOP STUDENT ATHLETE at the University of Southern California in 1972. That special award is only given to one student every year.
In 2000, John wrote the original story, TURNING OF THE TIDE, and in 2006, co-authored the famous book, TURNING OF THE TIDE, which is based on his story. It's about the historic 1970 USC/ALABAMA game that broke racial barriers. John was the defensive captain and starred in the game. That book has been optioned for a major motion picture.
Also in the year 2000, John, as Chairman of the LA Harbor Watts Economic Development Corporation, authored the Bridge to the Breakwater WATERFRONT PROMENADE PLAN for the Port of Los Angeles… a billion-dollar project being currently built by the POLA.
John has demonstrated the qualities of the Trani Award through his coaching youth sports teams, supporting local and national athletes for induction into the LA Sportswalk of Fame.  He continues to be active in the athletic community.